LogiPlan Terminal
LogiPlan Terminal solves logistic and organizational challenges for the logistic terminal, distribution, and suppliers
Book demo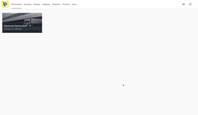 The application addresses a compelling range of challenges including terminal management, delivery management, storage management, statistics and more.
Terminal Management
This module includes creating and maintaining the warehouse structure, adding terminal vehicles, expeditors, construction projects that use the terminal, users, and profiles.
Logistics terminals

Logistics terminals includes the complete list of logistics terminals that the user has access to.

Projects

Projects registers projects using LogiPlan Site to share information on deliveries planned for the construction site.

Warehouse structure

Warehouse structure is a module where an administrator defines the structure of the warehouse and is highly flexible to match any specific structures that can be defined.

Warehousing costs

Warehousing costs are managed for different entities in the warehouse structure to provide total costs for storing items.

Vehicles

Vehicles can be registered on the terminal management view for delivery planning purposes.

Unloading zones

Unloading zones defines the unloading zones for incoming deliveries while loading zones are used for outgoing deliveries.

Invoice management

Invoice management is used to register and send invoices for shipment through the terminal.
Book demo →
Incoming Orders
This module includes all features related to handling orders and deliveries to the terminal.
Create orders, packages and items

Create orders, packages and items and structure them as necessary.

Import orders

Import orders from a delivery plan into incoming orders to manage them.

Import orders from material supplier

Import orders from material supplier that is integrated with LogiPlan into the Terminal application.

Delivery check

Delivery check can be performed on an incoming order and register it as in storage on a certain storage item.

Deviations

Deviations can be registered on received orders to report and track quality of delivery issues.

Add construction project

Add construction project to terminal to sync data between the terminal and LogiPlan Site.
Book demo →
Outgoing Orders
This module includes all features related to handling orders and deliveries from the terminal to the Construction Site.
Delivery plans

Delivery plans can be created using orders available, planning a route and stops for a vehicle to follow when delivering one or several orders.

Pick lists

Pick lists can be used to choose packages in storage and prepare them for delivery or managing orders to be placed on a loading zone.

Labels

Labels for orders and delivery plans can be created in LogiPlan Terminal and printed.

Delivery notes

Delivery notes for planned deliveries can be created and printed directly in the application.

Material requests

Material requests from LogiPlan Site can be handled in the Terminal application.
Book demo →
Storage Management
This module contains key features related to effectively managing storage allocation, space available, costs and moving orders in storage.
Move packages

Move packages between different locations by selecting packages in the application or by scanning a source and destination shelf tag and using the move commando.

List and search orders

List and search orders to understand where they are located and check details as specific project and supplier involved in the order.

Material availability

Material availability can be checked in the storage management module when large amounts of materials are stored for request from the construction site.

Fill rate

Fill rate can be checked on individual storage units to determine how much storage is free.

Divide packages

Break packages in storage into other storage units for example pallet to packages and store them in different locations.
Book demo →
Deviation Management
Deviations management is a module used to register deviations for orders in the terminal.
Deviation type

Deviation type registers the type of deviation and is picked from a large list of predefined classes of deviations.

Deviation priority

Deviation priority is a priority set to the deviation so that deviations can be addressed by their importance.

Deadlines

Deadlines save deadline data for deviations to be addressed.

Send deviations to email

Send deviations to email can be used to send a set of registered deviations to a subcontractor or supplier.
Book demo →
The task is to create solutions that are not on the project plan yet. Customers help us tune that to reality.
Alejandra Sundberg

Construction Manager,
Project Life City, Stockholm

LogiPlan is a very good tool that saves me a lot of time and helps me keep track of contractor's planning. I am using the desktop web application to plan and the mobile app to check the status of deliveries for my contractors when I'm on the go.

Michael Frisk Guldplatz

Production Manager,
Project Katarinahuset, Stockholm

LogiPlan is developed by builders for builders and one can see that in the features that it provides. The customer is invited to participate and impact the development of the product and the ideas that we have had were implemented fast. As an example, a driver can open gates for a delivery if allowed under her delivery slot time which will save a lot of time because we don't need to run to the gates to open them.

Karl-Johan Roihjert

Production Manager,
Project Life City, Stockholm

With LogiPlan we observe that our contractors learn from each other. When they see that another contractor books a certain time because it's favourable and faster, then they do the same.